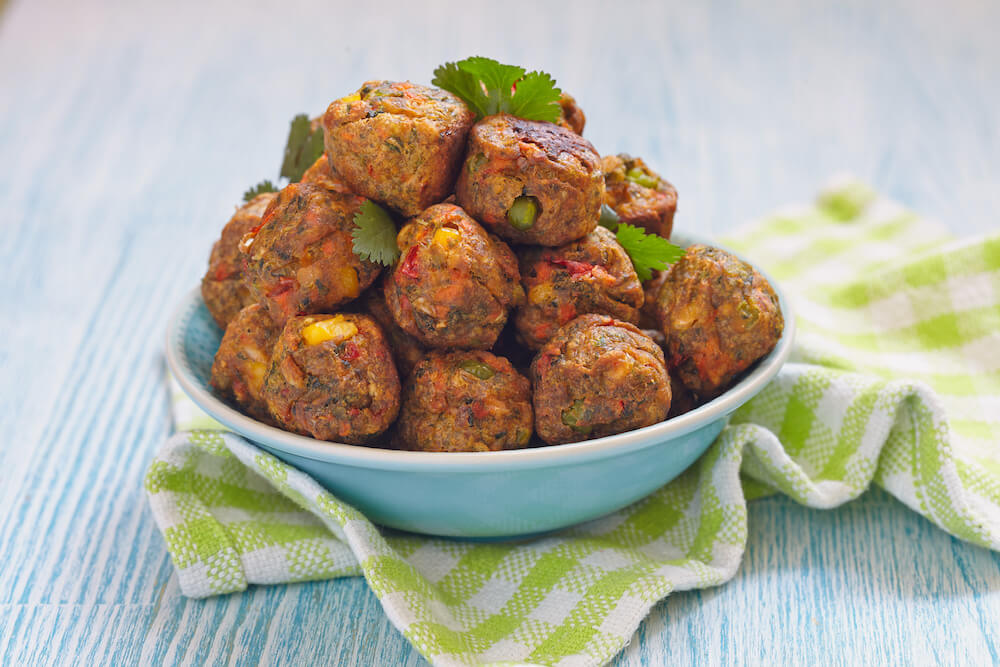 Healthy Vegetarian Meatballs
By: Dr. C and Nico
Whole Bodies, Whole Minds recently sat down with a Toronto and Ottawa-based nutritionist, and we asked her what her favorite meal to make is. She did us one better and gave us a recipe for these excellent vegetarian meatballs!
Loaded with protein, baked not fried, these crunchy spiced delights are always a welcome addition to a pasta sauce. Check it out!
Healthy Vegetarian Meatballs
Prep time: 15-20 minutes | Cook Time: 5-10 minutes | Serving size: Makes 15 meatballs
Ingredients:
1 cup red cooked kidney beans, drained
1/2 cup cooked black or pinto beans, drained
1 small onion, copped
2 cloves garlic, minced
2 teaspoons of dried oregano, sage, and basil mixture
1 teaspoon of powdered cumin
1 tablespoon of tomato paste
½ cup of lightly cooked quinoa or barley
½ cup of fresh oyster mushrooms, chopped small
¼ cup of rolled oats or crushed crackers
1/2 cup fresh cilantro or Italian parsley, roughly chopped (optional)
Salt and pepper to taste
Directions:
Preheat the oven to 350o. When kidney and black/pinto beans have finished cooking, remove them from the heat, drain and rinse them, then mix them together and mash to a pulpy consistency. Meanwhile, saute the onions and garlic in a small pan over medium heat until soft and sizzling (2-3 minutes), then add the oyster mushrooms for an extra 2 minutes. When this is complete, add the mashed bean mixture, sauteed onions + garlic + mushrooms, spices, oats/cracker crumbs, and cooked grains together into a bowl. Mash together, then add salt and pepper to taste.
Line a baking sheet with parchment paper, and form small but equally sized balls from the bean mixture. Line them up evenly on the tray. Once the oven is heated to 350, cook the meatballs for 12-18 minutes, until nicely brown and sizzling.
Enjoy in pasta sauces, as a protein-filled snack, or even on a meatball sub! Yum!