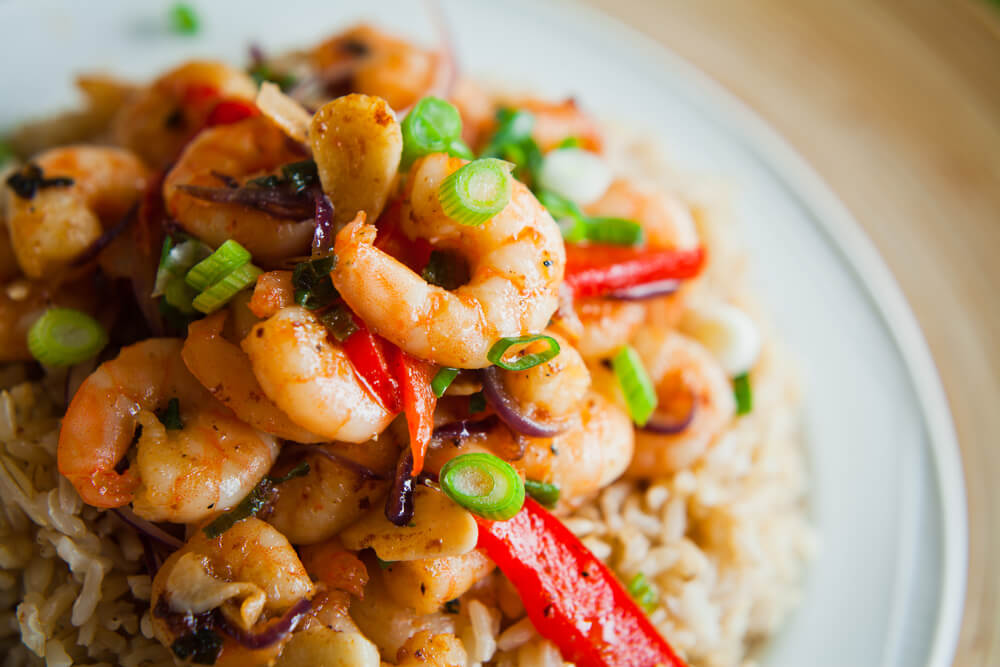 Coconut Rice with Shrimp
By: Jesse
I love the combination of juicy zesty shrimp over creamy coconut rice. It delights my taste buds and transports me to a tropical island every time.
I'm a big fan of the reality TV show Survivor. I have been watching it since it started and I have only missed a few seasons while I was in university. I like to invite my friends over to watch so we can make a night of it. One evening I decided to make a meal that reflected where the Survivors were living. Naturally this meal had to contain rice because that is pretty much the only food they are given to eat. I also wanted to include coconuts because they are always drinking fresh coconut water and snacking on coconut meat. Since the Survivors are able to fish, I added a seafood element: shrimp!
Shrimp over Coconut Rice Recipe
Prep time: 20 minutes | Marinating time: 20 minutes | Cook Time: 40 minutes | Serving size: 4
Ingredients:
1/2 teaspoon pepper
1/2 teaspoon balsamic vinegar
3 fresh limes, squeezed
3 cloves garlic, minced
2 pounds shrimp, raw
3 Tbsp coconut oil
1 small onion, finely diced
2 garlic cloves, minced
2 cups jasmine rice
1 1/2 cup coconut milk, full fat
1 1/2 cup water
1 1/2 cup frozen peas
1 cup cilantro, roughly chopped and a couple leaves for garnish
1 tsp fresh minced ginger
½ cup toasted cashews
1 cup shredded coconut, toasted
Directions:
Mix the pepper, balsamic vinegar, juice from 2.5 limes and garlic in a sealable container. Add the shrimp and toss to coat. Marinate in the fridge covered for 20 minutes.
While the shrimp is marinating, heat the 2 Tbsp oil on medium heat in a pot. Add the onion and garlic and cook for 5 minutes until the onion is soft. Add the rice and stir until it is coated in the oil and starts to sizzle, 2 minutes. Add 1 cup coconut milk and water and bring to a boil. Lower the heat and simmer covered for 15 minutes. Add the peas and continue cooking until all the liquid has been absorbed, 5 minutes.
Place 1 cup of cilantro, ½ cup coconut milk, 1 tsp fresh minced ginger, juice from ½ a lime and 1 garlic cloves in a blender and puree until smooth and set aside. Stir into the hot rice once it is cooked.
Heat 1 Tbsp of coconut oil in a large skillet on medium-high heat. Add the shrimp and sauté for 5 minutes until pink and fully cooked.
Arrange the rice on each plate and top with shrimp and garnish with a sprinkle of toasted cashews, cilantro and toasted coconut.