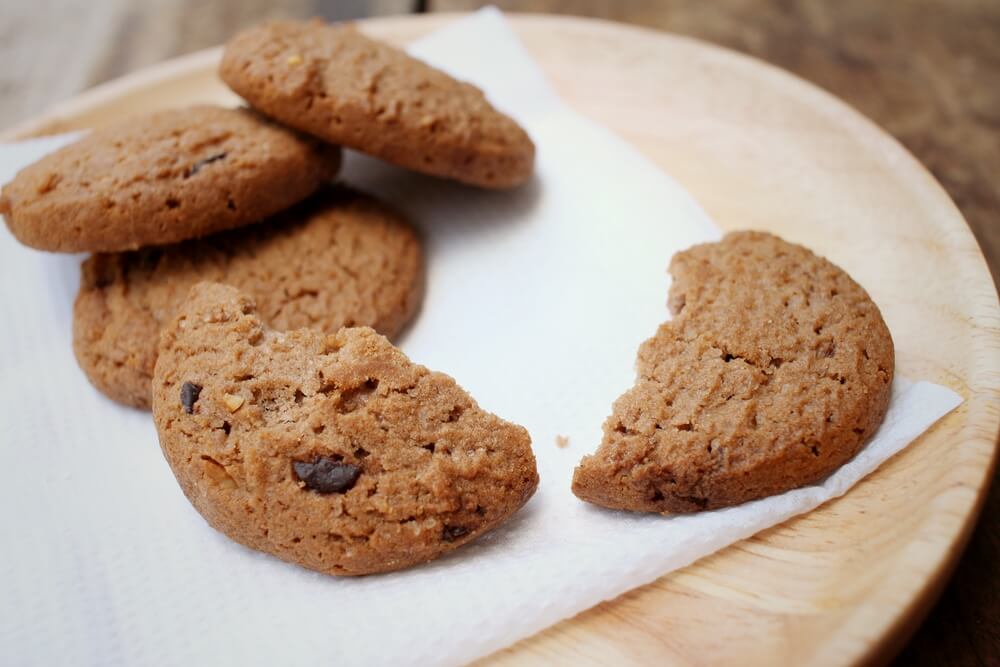 Chocolate Chip Spelt Cookies
By: Jesse
Nothing beats a warm chocolate chip cookie dipped into a glass of almond milk. Chocolate chip cookies are really nostalgic for me and bring me back to my childhood. My mom loved to bake with us and chocolate chip cookies were a favourite in our house. These chocolate chip cookies are still a treat, but I exchanged a few of the ingredients to make them healthier.
One of my biggest swaps in this recipe was to exchange regular sugar for coconut sugar. Coconut sugar is made from the sap and nectar of coconut palm trees. Coconut sugar has a glycemic index of 35 which is pretty low for a sweetener considering regular table sugar has a glycemic index of 65.
Glycemic index is a number that ranges from 0-100 that tells you how different foods affect your blood sugar and insulin production. The lower the glycemic index, the less it affects blood sugar and insulin levels. High glycemic index foods spike blood sugar levels which gives you an instant energy boost, but 30 minutes later your energy levels plummet.
I like using coconut sugar in my baking because it can be substituted one-for-one with regular sugar. It is most similar to brown sugar so it will add a slight caramel like flavor and colour to your baking.
Spelt Chocolate Chip Cookies Recipe
Prep time: 10 minutes | Inactive prep time: 2 hours | Cook time: 13-15 minutes | Serving size: 1 ½ dozen
Ingredients:
1/3 cup coconut sugar
1/3 cup powdered coconut sugar (just place regular coconut sugar in a coffee grinder)
1/2 cup organic butter, softened
1/4 cup coconut oil, softened
1 organic egg
2 1/4 cup spelt flour
1/4 tsp baking soda
1/4 tsp cream of tartar
1/8 tsp salt
1/2 cup semi-sweet chocolate chips
Directions:
Combine sugar, butter, coconut oil, almond milk, and egg in a bowl beat until smooth.
Slowly add the flour, baking soda, cream of tartar and salt and beat until mixed.
Fold in the chocolate chips.
Shape the dough into a 2 inch diameter log and wrap in waxed paper. Chill in the fridge for 2 hours. Don't skip this step! If you do your chocolate chip cookies will be very flat when you bake them.
Pre-heat the oven to 350F.
Slice the log into 1cm thick pieces and place on a cookie sheet lined with parchment paper.
Bake for 13 to 15 minutes until the cookie edges are golden.
Cool on a wire rack and enjoy.